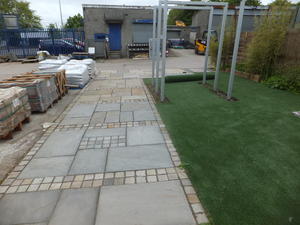 Astro Turf
Artificial Grass comes in many formats and is used across a wide variety of leisure installations. We stock a 32 mm triple coloured product, with 2 shades of green and a little brown thrown in for authenticity. We installed our display turf almost 6 years ago and it would be beneficial to view this product at this stage in its life cycle. Artificial Turf requires a little maintenance. Wind blown and bird droppings will deposit seeds onto the surface, the seeds will send out roots to seek moisture and flower like weeds, the longer you leave them the bigger they will get and become an eyesore. Our grass is installed on concrete! and we still have to clear the small developing weeds. Be Warned!
Our product can be cut to any length but is 4 metre wide.
Cost £16.50 per square metre
If you would like to make an enquiry about the Astro Turf, please use the form below or you can contact us by telephone:
email: .
Thank you ! Your message has been sent. We will contact you within the next 24 hours..