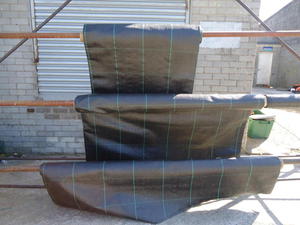 landscape membrane
Our Landscape Membrane is woven from polypropylene to provide a matting material for use in the landscaping industry. Free draining and strong enough to withstand heavy loading, the membrane comes in varying widths from 1 metre to 4metre, you simply buy what length you need.
Misconception.....the membrane WILL NOT eliminate weeds completely or especially bulbs from emerging next year!! It is a preventative material which when combined with a covering of gravel or bark assists in weed control, the membrane separates the gravel from the earth preventing losses into the ground whilst keeping out light.
Stock item throughout the year
Note: Covid 19 has had an impact on the production of this product throughout the world. Manufactures have switched their focus to PPE equipment which is in high demand by governments around the world. There is a current shortage of the product throughout the UK and when available you can expect to pay a premium on previous prices.
Price £1.00 per square metre
If you would like to make an enquiry about the landscape membrane, please use the form below or you can contact us by telephone:
email: .
Thank you ! Your message has been sent. We will contact you within the next 24 hours..